The First Foot Guards
We are a Revolutionary War reenactment group based in Boston MA,
accurately portraying the royal household regiment that is now known as
The Grenadier Guards

{
---
Articles of general interest
______________________________________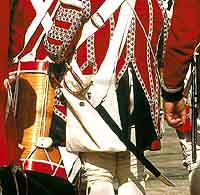 List of articles (See also classification by subject, which follows)
01: Recruiting speeches of the period.
02: Hundreds of tars were drowned when the Royal George keeled over.
03: The rapier: civilian weapon par excellence
04: The need for potash created wide open spaces in Massachusetts.
05: 'Passing fair' - praise or condemnation?
06: 'Shame be to himů' - the Most Noble Order of the Garter.
07: The drinking song that became a national anthem.
08: 1775 news as seen by a modern journalist.
09
10: Why 'Huzza'?
11: Words: Scots/Scotch/Scottish Guards?
12: The Philadelphia Campaign. Links to a series by the Philadelphia Inquirer
13: One of our number visits a school.
14: In George's own words: The Battle of trenton.
15: Our slow march and its opera.
15a: More on 'Scipio'.
16: Thacher's military journal for 1776.
17: The change from red coat to khaki battledress.
18: Thacher's military journal for 1775.
19: Recruiting practices.
20: 'Toll for the brave'
21: Gentleman Johnny Burgoyne
22: General Charles O'Hara
23: Words: chop & slice.
24: The Royal Military College
25: Outrageous civilian fashions.
26: The royalist connection.
27: Words to 'British Grenadiers".
28: History of gunpowder.
29: the formation of a national army in England.
30: A soldier opened the first circus.
31: England's main industry: wool.
32: Maybe London streets weren't so clean!
33: Red dye for red coats
34: The end of officers' commissions.

---
Contemporary Events
Click
Weaponry
Click
Words and Musick
Click
For a deeper understanding of History
Click
Miscellaneous
Click
Read all the articles
Click here
then advance to NEXT at the foot of each page
---
George Washington on the Battle of Trenton
In his own words...
Click
The loss of The Royal George
A tragic misjudgment resulted in the deaths of our tars.
Click
---

For a deeper understanding of History
There's more to macaroni than cheese
On fashion on the 1760's and 1770s
Click
General John Burgoyne
Being an account of his life and times
Click
The importance of potash in Massachusetts
A little-known story, that explains the landscape, and much more.
Click

A fine recruitment fpeech
To be fpoken with gufto.
Click
Excerpt from the diary of
James Thacher MD
for the year 1776
with a link to an online source with the rest of his diary.
A valuable resource
Click

Excerpt from the diary of
James Thacher MD
for the year 1775
Click

Instructions on Recruitment
Click

Redcoat & Khaki
Click
The Royal Military Academy at Sandhurst
Click
History of the formation of an English national army
Click
The 'Circus' as we know it was invented by a retired soldier
Click
The development of the rapier
How it changed from military use to gentleman's sidearm


The Development of Black Powder
Its history and formulation
---
Sjt Parsons' visit to school
Kids were duly impressed...
(Not impressed into the Army)
Click

---
She is indeed 'passing fair'
Clarification of the useful period word "passing"
Click

Honi soit qui mal y pense
Winston uses it...what does it mean?
Click


Chop, cut and slice
Thoughts on some old French words...
Click


Anacreaon in Heav'n
The popular drinking song that became even more popular
Click


Huzzah!
Where did this word come from, anyway?
Click


Scipio
The regimental slow march
Click


The British Grenadiers
The regimental march
Click

}
---
[ Home ] [ About The Guards ] [ Join The Guards ] [ Gallery ] [ History ] [ Interesting Articles ] [ Useful Links ] [ Guards Events ] [ Past Events ] [ Administration ]