The First Foot Guards
We are a Revolutionary War reenactment group based in Boston MA,
accurately portraying the royal household regiment that is now known as
The Grenadier Guards

---

Battalion:
The "Hat Companies"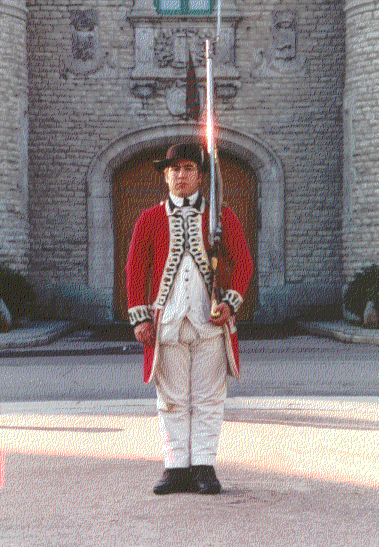 A Private Soldier
Standing at "shoulder arms".
The uniform

The red coat
has dark blue facings (lapels, collar, boot cuffs)
that are unique to Household regiments (King's personal bodyguards). It is made from high quality red and blue wool, with white wool inside the tails.
History of England's wool industry
The "lace"
(the decorative white tape) is stitched in the first Foot guards pattern known as 'bastion loops' (notoriously difficult to sew!).
The buttons
are plain pewter.
There is no marking of a regimental number, and this is true for officers (although buttons can be of silver or gold).
The waistcoat (vest).
Plain white linen or wool. It is shorter than the type worn in the French & Indian war. The pattern of the period has two lower 'points' at the front. Later the waistcoat was shorter, and cut straight across.
The trousers
Trousers were worn by the detachment for service in America. At home in England, breeches and stockings were worn. They were made from durable cotton duck. The color is off-white.
Shoes
Typical black leather shoes of the period, with buckles. Each shoe would have been identical (no left and right).
Gaiters
These black half-gaiters or spatterdashes protected the vamp of the shoe, and fit neatly under the hems of the trousers. They are made from heavy canvas.
From personal experience, these are effective at preventing dust and small stones from entering the shoes, and combined with the heavy trousers, one can walk with impunity though a field of poison ivy!
To show off the clothing, the Private Soldier above is not wearing his haversack, bayonet carriage, cartridge box or water canteen, which normally combine to make the typical diagonal X appearance across the breast and back of the soldiers.
The hat
Black felt, but not formed into a tricorn (of three points). It is turned up on the left side only, and has the black cockade on that side. A black ostrich feather is recurved over the crown of the hat. The edges are bound in black ferret (satin-like tape).
Because the headwear of the light Infantry and grenadiers had no brim, the headgear of the Battalion were known at "hatts". To distinguish Battalion from flank companies, they were referred to as 'hat companies'.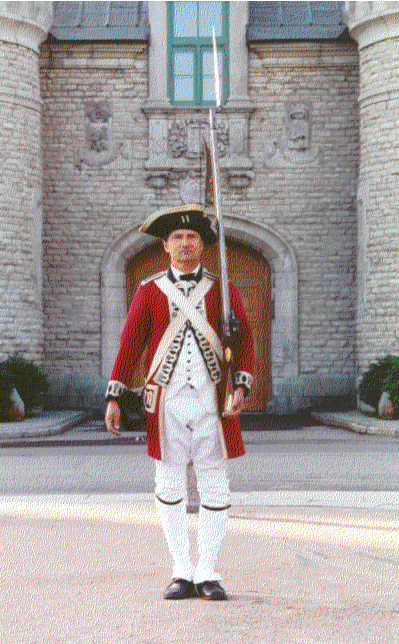 ---
Return to Companies page
Click

}
---
[ Home ] [ About The Guards ] [ Join The Guards ] [ Gallery ] [ History ] [ Interesting Articles ] [ Useful Links ] [ Guards Events ] [ Past Events ] [ Administration ]