The First Foot Guards
We are a Revolutionary War reenactment group based in Boston MA,
accurately portraying the royal household regiment that is now known as
The Grenadier Guards

The Cost of Living
London, mid 1700s
It may not be a meaningful exercise to translate the cost for seventeenth century commodities into modern dollars, because many of today's goods were simply not available or are not directly comparable.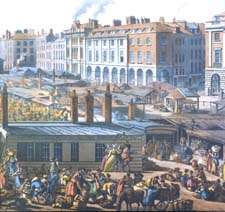 Covent Garden, London
It was originally a garden of a convent, but with the dissolution of the monasteries under King Henry VIII the property was given to a rich family. It was then laid out as a fashionable square, and later royal permission was obtained to hold a market for vegetables and fruits (it was an active market until the 1990s). The Theatre Royal, Covent Garden was built on the west side (it is still there: the home of the Royal Ballet). By the last quarter of the 1700s it became the nightlife center of London, where the gentry, the working folk and soldiers and sailors came to carouse and swive (an old word for, shall we say, dalliance with women of dubious character).
In the book
Dr Johnson's London*
The author, Liza Picard, has compiled an illuminating list of prices.
4 farthings = one penny (d)
(remember that 'farthing' was originally 'fourth-ing')
2 halfpennies = one penny (d) (pronounced hay-pennies)
12 pence = one shilling (s)
Ten shillings and sixpence ("ten and six") = half a guinea
Twenty shillings = one pound £
Twenty-one shillings = one guinea
This system was in operation until British decimalization in 1970.
Imagine the difficulty of working a calculation such as
If the price of gold chain is 5/4 (five shillings and fourpence) an inch, what is the price of 12 1/2 yards?
The symbol £
(Hopefully the symbol shows up on your computer)
Is the British monetary pound. It is a capital letter L in script with two short horizontal bars across the stem (akin to the dollar sign as an S with vertical bar or bars). The L represents 'libra', the dollar sign 'solodus' from the old European monetary system of Libra:solidus:denarius.
'Pence' or 'pennies'?
Prices would be described in pence: "The pretty flowers will cost you sixpence, your honour."
Individual coins would be referred to as pennies."I have tenpence in my purse, but one of the pennies is bad."
Banknotes of £10 and £15 had first been issued in 1759,
followed by notes for £100 and even £1000
1/2d (half a penny)
Half a loaf, during the gin craze earlier in the 1700s.

1d (one penny)
Enough gin to get drunk on.
A day's allowance of coal.
1 1/2d
A pound of soap (by no means as gentle as today's soap, for it might contain traces of lye).
Hourly rate for a boy to chop firewood

2d (tuppence)
Enough gin to get dead drunk on:
as the old advertising saw goes, "Drunk for a penny, dead drunk for tuppence."

3d (threepence)
Supper of bread, cheese and beer.
Cost of blood-letting for a poor person.
Cost of postage of a one-page letter going 80 miles (paid for by recipient).
4d (fourpence)
A quart of beer.
A boat across the river.
4d - 6d
A pound of cheese (domestic).

5d
A pound of hair powder.

6d (sixpence)
A barber's fee for a shave and dressing of one's wig.
Cost of sweeping one chimney.
6 1/4d (Sixpence farthing)
Dinner for a government clerk: cold meat, bread and a pint of porter.
8d
Cost of an evening at a coffee house.
Turnpike toll for a coach and four horses.

8d -10d
A pound of butter.
9d
Cost of an almanac.

10d - 1s
1lb of fat bacon (enough for two working men).
A dozen Seville oranges (not the kind we would care to eat today - nowadays they would be used for making marmalade

1s (one shilling)
Dinner in a steakhouse - beef, bread and beer, plus tip.
Sign-on bonus for army recruitment: The king's Shilling.
Admission to Vauxhall Gardens
Admission to Ranelagh Gardens (although it could be as much as 2 guineas on masquerade nights).
A dish of beef at Vauxhall.
1lb of perfumed soap.
Postage of a one page letter from London to New York.
1lb of Parmesan cheese.
One shilling was commonly written as 1/-
One and a half shillings ("one and sixpence")would be written 1/6 etc.
1s 6d
Rate of window tax per window of a house with 12+ windows (1762)
2s (2/-)
Cost of 12 yards of gold braid.
(and you think our Guards lace is expensive!)
Weekly rent of a furnished room for a tradesman.

2s 2d (2/2)
Daily pay for journeyman tailors.

2s 6d (2/6)
A whole pig.
A tooth extraction
Dinner sent in from a tavern
A chicken at Vauxhall gardens
A ticket to hear the rehearsal of the music for the royal fireworks at Vauxhall

2s 10d (2/10)
1lb of candles.

3s 2d
A pair of men's yarn knitted stockings (knitting was fairly new)
3s 3d
A barrel of Colchester oysters.

4s 6d
A petticoat for a working woman.
5s (5/-)
A pound of Fry's drinking chocolate.
A bottle of claret at Vauxhall.
A box at Drury Lane Theatre (1763).
A workman's secondhand coat.

4s 9d - 6s
1lb of coffee (but tea was more expensive!)

5s 2d
A pint of lavender water.

5s 7d
A pair of women's worsted stockings.

6s
A pair of stays for a working woman.

7s
A dozen rabbits in the market.
A stout pair of shoes.

7s 6d - 16s
1lb of tea.

8s
A bottle of champagne at Vauxhall.
8s 8d
A yard of flowered damask (you would need 15 1/2 yards for one dress).

9s
Weekly wage of an unskilled laborer.
A piece (14 1/2 yards) of Indian sprigged muslin.

10s
Cost of Dr Johnson's just-published Dictionary 1756

10s 6d
A bottle of Dr Prossilly's water for the pox (half a guinea was a common professional fee).
A ticket to hear Handel's Messiah (Handel on the organ) at the Foundling Hospital.
A ticket in pit or box at Theatre Royal, Covent Garden 1763.
10s 6d - 1 15s
Cost of various wigs.

13s 10d
A yard of Mechlin lace.

16s
A pair of men's lace ruffles.

17s 4d
A pair of men's silk stockings.

18s -22s
Weekly wage of a journeyman tradesman 1777.

18s
A wig for a clerk in a public office.
A brass barometer.

18s 6d
A yard of rich brocaded satin.

£1 - 36s (One pound to 36 shillings)
Price of carpet per square yard.

£1 1s (one guinea)
A fine beaver hat.
Twelve French lessons.
£1 9s
Season ticket to Vauxhall 1742.
£1 10s
A pair of velvet breeches.
£1 12s
A pair of stout silk-knit breeches.

£1 15s
Monthly pay of an East India Company seaman 1762.
£2 (two pounds)
Annual shaving and wig-dressing contract.
£2 2s (two guineas)
A month's dancing lessons.

£2 10s
Annual pay of a ship's boy.
£4 10s (Four and a half pounds)
A suit of clothes for a clerk in public office.
£5
A silver hilted sword.
£5 5s (five guineas)
A silver watch
£6
Cost of a night out, including supper, a bath and a fashionable courtesan

*Dr Johnson's London
Liza Picard, 2000
St Martin's Press
175 Fifth Avenue
New York NY 10010
---
Find out what a soldier was paid
Click

Find out the value of any British money in any year
offsite link

}
---
[ Home ] [ About The Guards ] [ Join The Guards ] [ Gallery ] [ History ] [ Interesting Articles ] [ Useful Links ] [ Guards Events ] [ Past Events ] [ Administration ]