The First Foot Guards
We are a Revolutionary War reenactment group based in Boston MA,
accurately portraying the royal household regiment that is now known as
The Grenadier Guards

Engineer John Montresor
Chronology of the Royal Engineers
Click
Engineers Serving in North America
Click
Mrs Frances Tucker Montresor
Click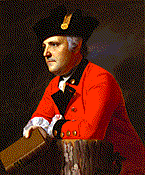 Colonel John Montresor by John Singleton Copley
Our reenacted regiment is privileged to have a Royal Engineer.
John Montresor
is portrayed by Ed Certusi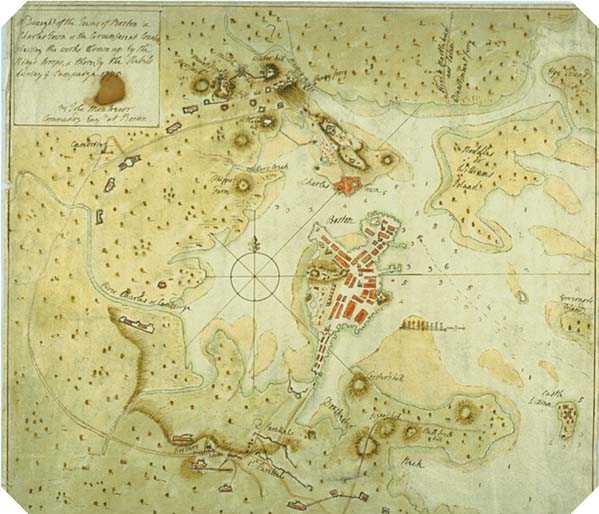 John Montresor was an engineer officer who traveled extensively in America, engaging in both the construction of fortifications and in mapmaking.
John Montresor accompanied his father (also an Engineer) as he traveled during the French and Indian War. By the time of the Revolution, John Montresor he designed many of the fortifications, and drawn the maps that both combatants were using.
The years between 1755-1783 saw extensive surveying of New York by British military engineers due to the French and Indian War and the American Revolution. His work focused on militarily important areas, such as coastal harbors and fortifications.
Montresorís map of New York is probably the best overall depiction of the town and environs produced by the British. It is very detailed, and was used, and highly regarded, by both sides in the Revolutionary War.
Montresor's Huguenot Roots
John Montresor's grandfather, JG Le Tresor, a Frenchman who became a naturalized Englishman, became Lieutenant Governor of Fort William, a key stronghold in Scotland. He was a Major in the Royal Scots Fusileers.
JG Le Tresor's son, James Gabriel Montresor (1702-1776) joined the British artillery at Minorca in 1727. He became Braddock's chief engineer in America. He was promoted to Lieutenant Colonel and director of engineers in 1758, serving through the end of 1759 in NY State, where he upgraded many forts. For his American service he was awarded a plot of 10,000 acres to the east of Lake Champlain.
He married secondly the daughter of novelist Henry Fielding. (Fielding wrote 'Shamela', 'The Covent Garden Journal', and the rollicking "Tom Jones".)
Service in The French and Indian War
John Montresor (1736-1799) was JG Montresor's son by his first wife. He was born in Gibraltar, and accompanied his father to America in 1754 and was appointed an additional engineer with the ill-starred Braddock, following his father to NY. Montresor was present at Amherst's capture of Louisburg, Wolfe's siege of Quebec, and served under Murray in 1760. In 1761 he explored the route later taken in Arnold's march to Quebec. By the end of the French and Indian war he had gained the rank of Lieutenant in the army.
Service in Pontiac's War
Montresor was sent with letters from NYC to the frontier fort at Detroit, and left in Robert Rogers' force. In 1764 he improved the defenses of Detroit, and at Niagara, he selected the sites and drew up plans for the building of eleven two storey log blockhouses strategically located along the length of the Portage Trail. He designed and built a mechanized tramway which was known as "the cradles" to further assist movements of boats, supplies and arms to the top of the escarpment. Captain Montresor had devised this new way of hauling goods up the steep bank of the Niagara Escarpment known as "Crawl On All Fours". It became the first elevator built in North America. It consisted of two wooden tramways leading from the dock along the Niagara River at the base of the escarpment to the top of the cliff. Two cradles were linked by rope over a pulley at the top so that when one cradle moved down one tramway, the other cradle moved upward. Each cradle was capable of carrying 12 - 14 barrels of supplies at a time. This cradle tramway was still in operation 46 years later.
See a modern boat lift (installed 2002)
Click
America from 1766
He returned to England then came back to America in 1766 as Captain Lieutenant and Engineer Extraordinary and commissioned as Chief Engineer in America in 1775 with the rank of Captain. In the ensuing years he worked on improvement of fortifications and barracks (foot soldiers, rejoice!) in Philadelphia, New York City, Boston and the Bahamas, and surveyed the NY-NJ border.
Montresor recommended in May 1774 that Crown Point be the location of a new fortification made by enlarging and strengthening Grenadier Redoubt. Before British troops were sent from Montreal to implement Montresor's plan, the Revolutionary War began in Lexington and Concord.
He was involved in the design of other fortifications, such as Fort Mifflin. Montresor was selected by Pennsylvania Governor John Penn to prepare plans for fortifying the waterborne approaches to Philadelphia. Montresor chose Mud Island because it offered protection to both the Schuylkill and Delaware Rivers. Work began on the fort in 1772, but proceeded slowly until the outbreak of hostilities between England and the Colonies. By 1775 war seemed imminent. Attention was once again turned to the defenses along the Delaware River, and General Thomas Mifflin was charged with completing the work.
Montresor's Island
In 1772 he purchased an island in the East River off Manhattan, which became known as Montresor's Island, and subsequently Randall's Island, which is the name it has today. Randall's Island in one of the islands crossed by the Triborough road and rail bridges.
Montresor married in March of 1764 and lived on the island with his wife and family. His wife, Frances Tucker (1744 - 1826) was born in New York, the only child of Thomas Tucker of Bermuda, a lieutenant in the British army.
Montresor owned the island until the British evacuation of New York City in 1783.
In 1776 as the British attacked northwards from Long Island, Montresor's Island served as a quarantine for troops of the Continental army who had been inoculated for smallpox. It was captured by Crown Forces on 10 September 1776. The island was a strategic springboard for amphibious landings on either Manhattan, Queen's or The Bronx. The island was unsuccessfully attacked at dawn of the 23rd September by a detachment of 240 men of the 16th Massachusetts under General Heath. Heath's ADC, Major Thomas Henly, was killed in the botched attack.
Montresor in major battles
He was present at Lexington 1775, Bunker Hill 1775, the Battle of Long Island 1776, Brandywine 1777, and the attack upon the Delaware River forts (he had built the defenses on Mud Island).
Although Montresor has served Howe well at Brandywine as his aide-de-camp, he apparently did not get on with his successor, General Clinton (who was notoriously opinionated), and he returned to England in 1778, and resigned his commission. Montresor is not mentioned once in Clinton's 'American Rebellion'. The reason for the Clinton's lack of warmth might have been that Montresor did not have formal training, although he possessed a lifetime of on the job training. At this period there were many in the army who lacked formal training: most of the officers, and almost all of the Surgeons, for example.
John Montresor died in England in 1799.
Mrs Frances Tucker Montresor (1744 - 1826)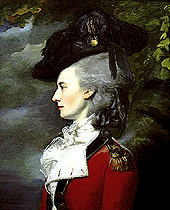 The choice of John Singleton Copley to paint Frances Montresor's portrait was natural since Copley had painted John Montresor in three quarter profile facing left and in uniform (c. 1771, now at the Detroit Institute of Arts). The artist, having moved to England to further his career and to avoid the opprobrium of being a Tory, was in 1778 commissioned to paint a companion portrait with the same dimensions.
For her portrait, Mrs. Montresor wore a costume that was in the latest style, a female riding habit adapted from the military uniform. The tall headdress topped off with the elegant black hat trimmed with feathers was also the height of fashion. Indeed fashionable ladies in Paris wore their hair in great piled heights, sometimes adorned with birds or even ship models or other fancies. Copley's portrait shows Montresor in pensive mood, whereas Mrs. Montresor poses in a classical profile redolent of antique cameos and coins.
---
Chronology of the Royal Engineers & Royal Artillery

26 May 1716
Formation of the Royal Artillery by Royal Warrant. Two companies were permanently established at Woolwich, which is downriver from London, and where the Royal Arsenal was built. The local professional soccer team is "Arsenal". Woolwich is pronounced 'wool-itch'.
1717
Engineer branch formed
1741
Royal Military Academy founded at Woolwich.
1744
Duke of Cumberland visited Woolwich, which prompted the reform of discipline and training. The 40 students formed the Company of Gentlemen Cadets, the senior company of the Royal Regiment of Artillery.
1746
Expedition to L'Orient.
1747
Formation of a train for Admiral Boscawen's expedition to India.
First recorded example of employment of Engineers in India.
1747
Beginning of the Great Highland Survey, which ultimately became the "Ordnance Survey". The commonly-available maps of Great Britain are still called Ordnance Survey.
1754
At this time the Corps consisted of a Chief Engineer and 32 officers
1757
Royal commissions were issued, granting Army rank to Engineers
1758
Corps consisted of 61 officers and a company of miners.
1759
Engineers were reorganized into a separate Corps of Engineers, with a strength of 61.
1772
The Company of Military Artificers was formed at Gibraltar.
1775
Outbreak of American War of Independence.
Only one engineer was in
North America at the time: Captain John Montresor.
1782
The Corps numbered 75 officers.
1788
The Corps of Engineers became the Corps of Royal Engineers.
A Corps of Royal Military Artificers was formed.
At the start of the war Captain John Montresor was the only engineer on duty in all of North America. He was joined by three others during 1775 and a further 21 in 1776. There was always a shortage of engineers and there were never more than 24 (in 1776). From this peak to the end of the war, their numbers dwindled to the point where in New York in 1782 there were only four engineers, but 13 "Assistant Engineers." These were junior officers from other branches of service, or even civilians who showed aptitude for engineering work and were placed "on command" to do this duty. They were also paid an extra 5s. a day, an incentive for subalterns.
Engineers Serving in North America
A total of 36 different engineer officers served in North America between 1775 and 1783.
Some of them are listed below with their dates of service.

Major James Moncrieff (1779-80?)
Mentioned in Clinton's 'American Rebellion'

Major Mathew Dixon (1776- ?)

Captain John Montresor (1775-78)

Captain John Marr

Captain Alexander Mercer

Captain William Frederick Mulcaster

Captain Lieutenant Abraham d'Aubant (1776-82)

Captain Lieutenant John Camble

Captain Lieutenant Archibald Robertson (1775-81?)

Captain Lieutenant William Spry (1775- ?)

Lieutenant Andrew Durnford ( -1783)

Lieutenant Desmaretz Durnford (1776-78)

Lieutenant Elias Durnford

Lieutenant Thomas Hyde Page (1775)

Lieutenant Parker

Lieutenant Pitts

Lieutenant Alexander Sutherland (1776-82)

Lieutenant William Twiss (1776-78?)

Second Lieutenant William Fyers (1775- ?)

Second Lieutenant Bendithe

Second Lieutenant James Straton (1776-82)

Second Lieutenant John Wilson

Robert Morse

- Wade (1776- ?)

}
---
[ Home ] [ About The Guards ] [ Join The Guards ] [ Gallery ] [ History ] [ Interesting Articles ] [ Useful Links ] [ Guards Events ] [ Past Events ] [ Administration ]